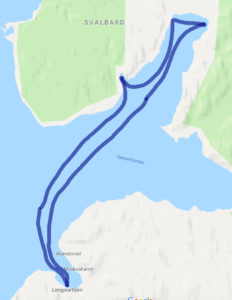 As a reward for finishing my first painting in Longyearbyen I gave myself a day off and took a tour of Pyramiden, an abandoned Soviet-era mining town. It also included a brief stop by a glacier, and a trip into a small bay.
We started out from Longyearbyen, then traveled out of Advenfjorden into Isfjorden (which lea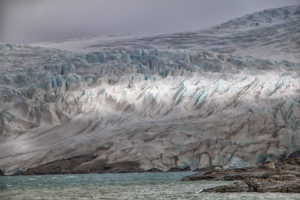 ds into the Greenland Sea). Once we were sufficiently out, the boat made the turn for Billefjorden.  This is the moment to tell you it was a boat, not a ship, and that the seas in Isfjorden can get quite rough. We traveled the length of Billefjorden until we reached the Nordenskjöld glacier.  While the day was mostly overcast, we were fortunately to have streaks of sun break through which was absolutely lovely on the surface of the glacier. I hate to say any glacier is ordinary, but this one is less spectacular than others I've seen in Svalbard, and I was happy to have the sun paint it with dramatic light.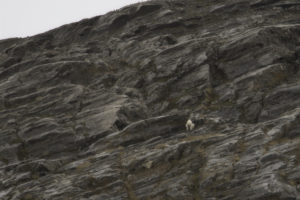 Here, we dropped off a small group of women who were going to hike the glacier for a few days. There's a small hunter's hut off to the side of the glacier that they were going to stay in, and they had a armed guide and his adorable dog to go with them. In case we needed a reminder, we saw three ice bears on the rocky island in front of the glacier. I was glad to see bears, and also glad that we stayed a good distance away.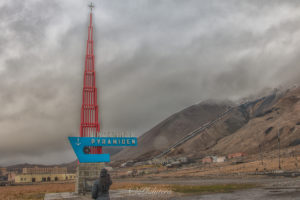 Our next stop was Pyramiden which is an abandoned Soviet-era coal mining town. It was extraordinary, and I'll write more about it on my Patreon site. I found it to be magical. We'd been warned that ice bears frequent Pyramiden, and our guide told us they'd had a bear break into the hotel where they live. Fortunately no one was harmed, they called to Longyearbyen for their "bear extraction team" and the bear was driven away.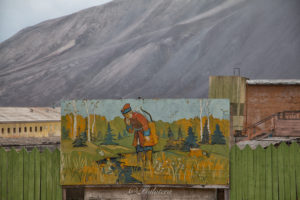 Pyramiden was magical, and why at least one if not more novels aren't set there I can only put down to the fact that few writers visit this magical, haunting place. It has so many stories to tell, and I really want to go back again for a longer visit.  There's a staff of eleven people during the tourist season, and four people overwinter. Everyone lives in the hotel which I understand can take guests. While once the town was set up for satellite communications through Sputnik, now there's no way for a person to get in touch with the outside, though they do have a shortwave radio for emergency contact with Longyearbyen and Barentsburg (which is still inhabited by Russian miners). It was an astonishing place.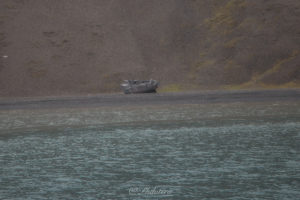 On the way back we did a brief trip into Skansbukta where there had once been a Norwegian gypsum mine. You can see the remnants of the mining operations, the tailings, and an abandoned boat from shore. It would've been nice to be able to go onshore or get closer for a better view, but the weather was turning bad, and we had increasingly rough seas on the way back to Adventfjorden, so it was not to be.