Months ago when I was accepted to these residencies and set up my initial travel plans I arranged to spend a full day in Oslo to do some sightseeing. Of course, I completely forgot about this, leading to a very tired me arguing with the check-in clerk that I wasn't staying two nights, just one. Until I checked my notes and discovered that I'd always intended one day in Oslo.
Today was that day.
The train from the airport to Oslo Central is a wonder, and left me feeling embarrassed for Amtrak. What an outdated train system we have! Oslo's entire transit system made me envious. Better buses, better trains, better streetcars/light rail. I took the NSB train to Oslo, and it took 20 minutes plus a 20 minute wait. On the return, I took Flytoget which is an express only between the airport and Oslo Central. It's a little more expensive, but worth it since those trains leave every 7-10 minutes, so no waiting.
My first business was getting a new SIM card for my phone. The process took longer than expected because I'm going to Svalbard, and even in Oslo, they weren't rsure they had coverage in Svalbard. Iceland? Ja. UK? Ja. Svalbard? ….. When I reminded them that Svalbard is part of Norway, the clerk shrugged his shoulders. "But why would anyone go there?" Eventually they determined that parts of Longyearbyen are covered, and that was the best they or anyone could do. So we will see how much coverage I have. I can always walk to the town coffee shop (yes, there is one. It's also the town yarn shop and the town bookstore) and use that wifi if needed.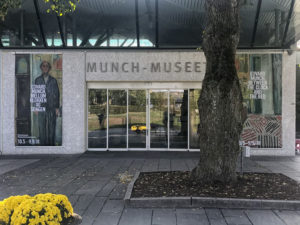 The rest of the day was about visiting the Munch Museum, and walking. I have no photos from inside the Munch Museum. Security there is very tight, tighter than at the airport because of the robbery in 2004 when two robbers stole The Scream and Madonna at gunpoint. No one was harmed, and the paintings were recovered in 2006. To go in now you can't carry anything – no bag or purse of any size – and you have to go through a screening system much like the ones in US airports, first to get into the museum, second to get into the rooms. The doors to the exhibits are locked and you are let in by a separate group of guards. I think if they could require you visit naked, they would.
The current exhibit, Between the Clock and the Bed, features many of Munch's best known paintings (he created over 40,000 images during his career), many of the themes he revisited throughout his life and this was a rare opportunity to see these works together. One room contained all his versions of "By the Deathbed" – paintings based on his beloved sister's death. The effect of seeing these together was staggering, and hard to bear. I was weeping by the time I left the room, and I was not the only one. Munch's goal was to capture intense psychological states, and he succeeded. I have rarely seen artworks so powerful, so emotionally engaging. Munch's knowledge of what the body looks like in grief, in jealousy, in shame made some of these paintings almost too painful too look at – I had to edge up on "Inheritance", which depicts a woman holding a naked dying child, maybe three years old, on her lap. The child is deformed from syphilis. When I first walked into that room I had to walk out again. I could not bear to see such pain. It felt obscene. The woman's hunched position, her swollen face, they way he depicted the handkerchief stuffed in her mouth to stifle her cries – my god, what a terrible, magnificent masterpiece.
There isn't a reproduction anywhere that can capture the strength of these paintings. Seeing them in person was difficult and amazing. I can't even imagine the effect of all four versions of The Scream in one room. I think I might end up curled in a fetal position on the floor. If you're in Oslo, and have only one thing you can do, going to the Munch Museum would be my recommendation. It was a harrowing experience for sure, but also sublimely beautiful and these are true works of genius. This was an artist who took all his fears, his pain, his passions and found a way to make them visible. Both terrible and wonderful. Seeing his work in person was an astonishing experience. If I were here longer, I would go back again.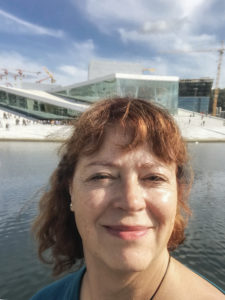 The rest of the day was spent walking Oslo's streets. The botanical garden, particularly the rock garden, is beautiful. The city is old and lovely and feels very civilized. I walked a small part of the 9km harbor walk (that's the opera and ballet house behind me). There's a lovely outdoor flower market, a fountain for chickens, old churches – and yet a lot of construction is also happening. Oslo is growing quickly and the juxtaposition of old and new is sometimes disconcerting because the old is so very old. I also ate at a neighborhood Italian restaurant because it smelled delicious, and drank wine outside in a cafe on a street where a fair of some sort was happening, and walked along a canal filled with swans and ducks. Really, my favorite way to enjoy a city.
Tomorrow I fly to Longyearbyen, I've already checked in, and that will be whole new adventure.