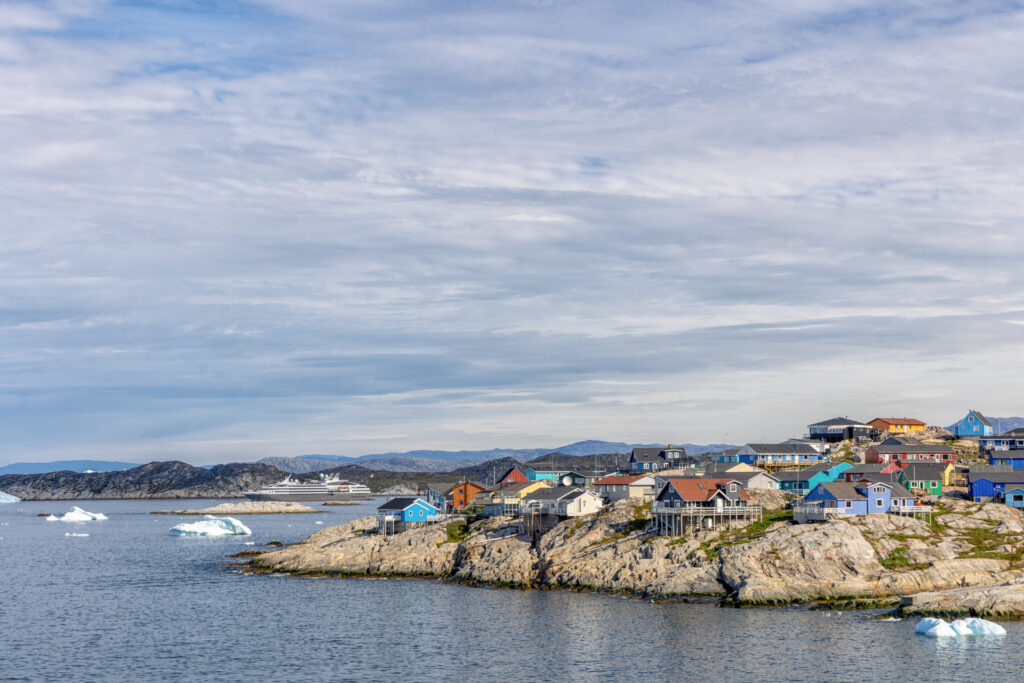 The Yellow Trail begins (or ends) at the Ilulissat energy plant. Before starting the climb up the long wooden steps I first went to look at this lovely sculpture. There was no sign for it, and I couldn't find any information about it online, but it was beautiful and I assume a tribute to fishing since it is full of fish. After this moment of admiration, I climbed up to the beginning of the Yellow Trail.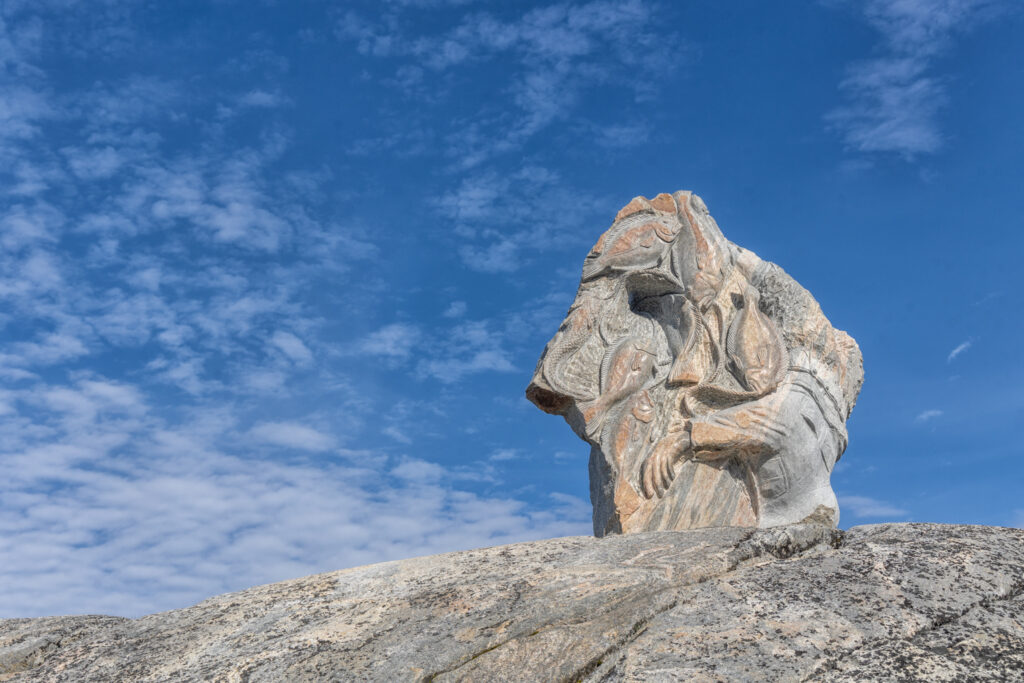 The trail is an uphill scrambling on pink shield rock, edging around mosquito-blanketed ponds of emerald and chartreuse water edged with velvet moss sprinkled with tiny butterflies. The sea is always in sight. While hiking I saw whales, and whale watchers, performing their dance in front of icebergs bigger than houses, bigger than city blocks, all floating on the bluest of seas for it is a sunny day.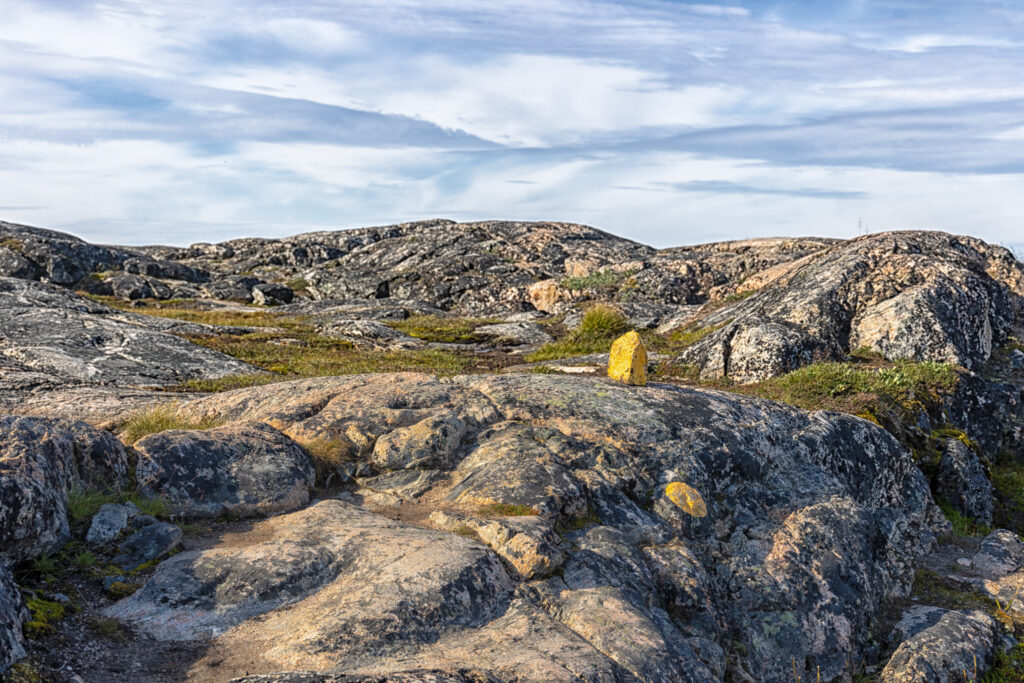 After an easy climb I came to a traditional style Greenlandic house. Much like the traditional Icelandic houses it's a sod/dirt house with a roof. Again, no sign saying its purpose but my guess was that it was for youth groups. There were new stairs and a porch going up to the locked door, and something about it had a youth group feel, but I could be completely wrong.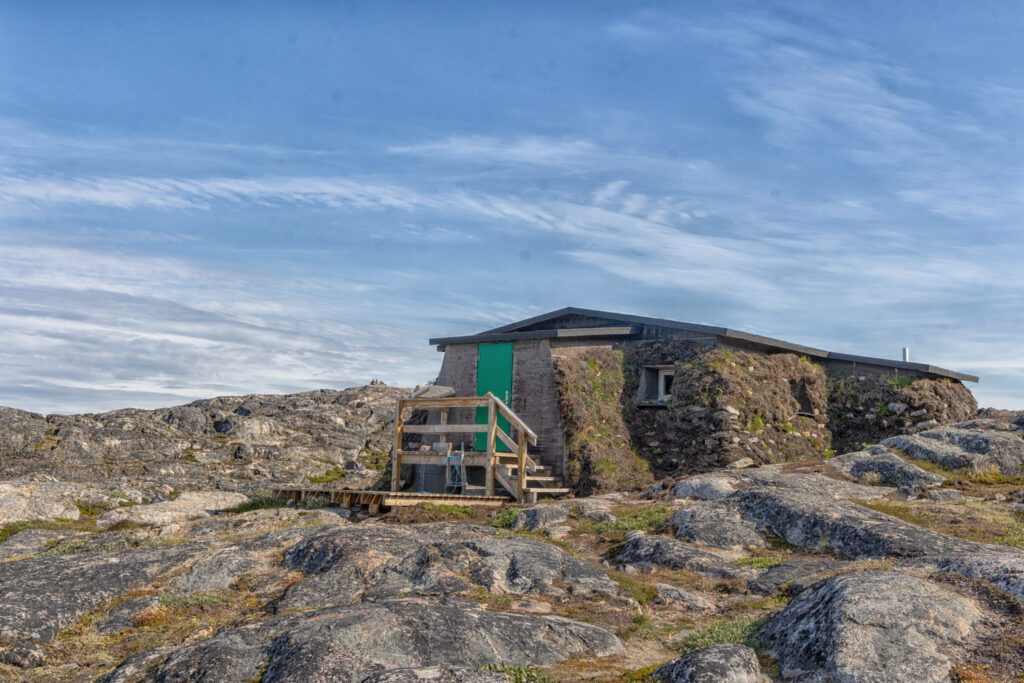 Yes, there were mosquitoes and black flies and deer flies. There were plenty of beautiful puddles and tiny ponds for them to breed in. It was not too terrible because the biting insects in general are not partial to me. That said, if you look closely in some of the trail photos you'll see a myriad of black specks low to the ground. Those would be the bugs. Needless to say, I was grateful that there was a little breeze.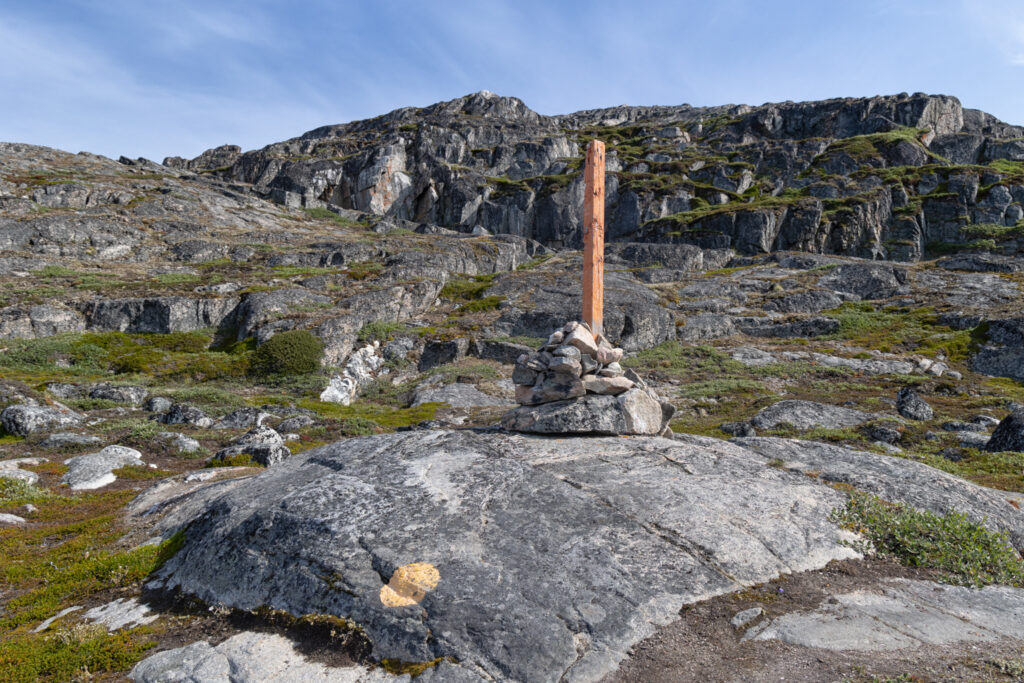 After the house the trail gets more serious, and much higher. As you walk over the rock the Icefjord reveals itself. It is one of the wonders of the world, and I am privileged to have seen it. A UNESCO world heritage site, the Icefjord is the exit for thousands of massive icebergs calved from the hyper-productive Sermiq Kujalleq glacier which is an ice front for the ice cap and so properly speaking not a glacier at all. This is the second most productive glacier in the world (the first is in Antarctica) receding at an astonishing speed of 40 meters (131ft) a day. The fjord, which is very wide, is choked by these icebergs, filling it from shore to shore as they push their way out into the sea.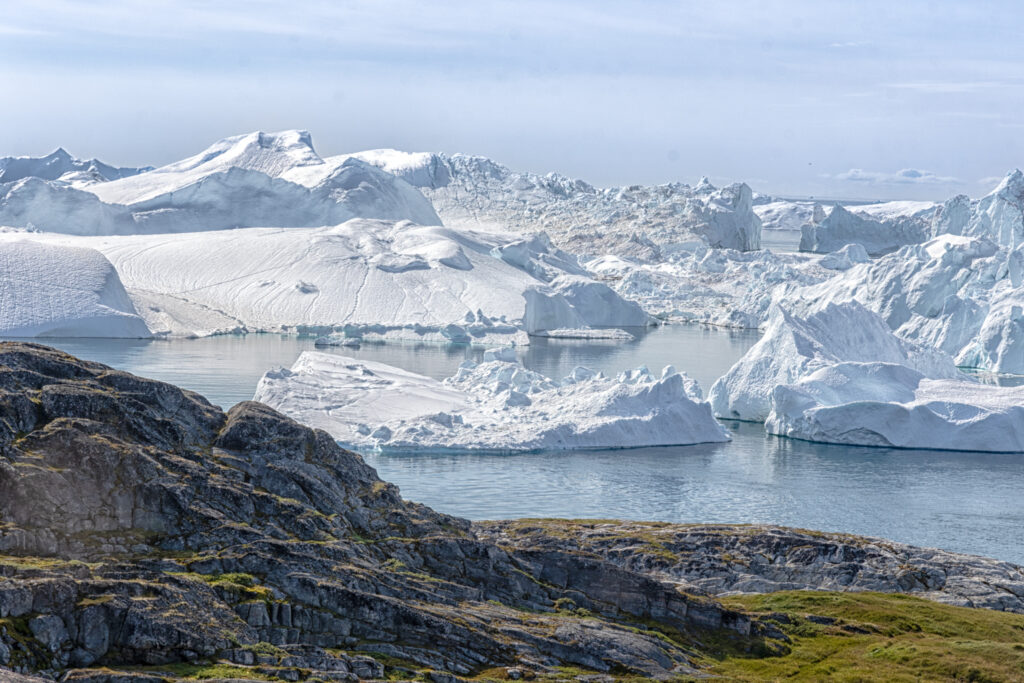 There is no description I can give of this that can equal the wonder of seeing it. Indeed, when you first see something entirely new like this how can you understand what you see? All you can do is feel the awe, and observe what you can. This was a day full of awe for their beauty, their massiveness, and the implication inherent in this calving. The icebergs look like mountains, and are as tall as the hills of the fjord surrounding them. As they push their way out to sea the icebergs are already grinding each other into smaller and smaller pieces to be absorbed back to water.Thousands, perhaps millions, of years of history gone in three years, which is the average life span of an iceberg. Even when you stand looking down on it with the cool breeze on your face, it doesn't seem real. It never seemed real no matter how long I looked. My heart was full of so many feelings I do not know how to describe them. I know I will come again on our return. It calls me.
The height of the climb was close to Sukkertoppen's height, and it was quite a view. I looked down on this sea of ice and on the boardwalk (wheel chair accessible) that curves over the tundra from the Icefjord. On myriad puddles of water reflecting the sapphire sky.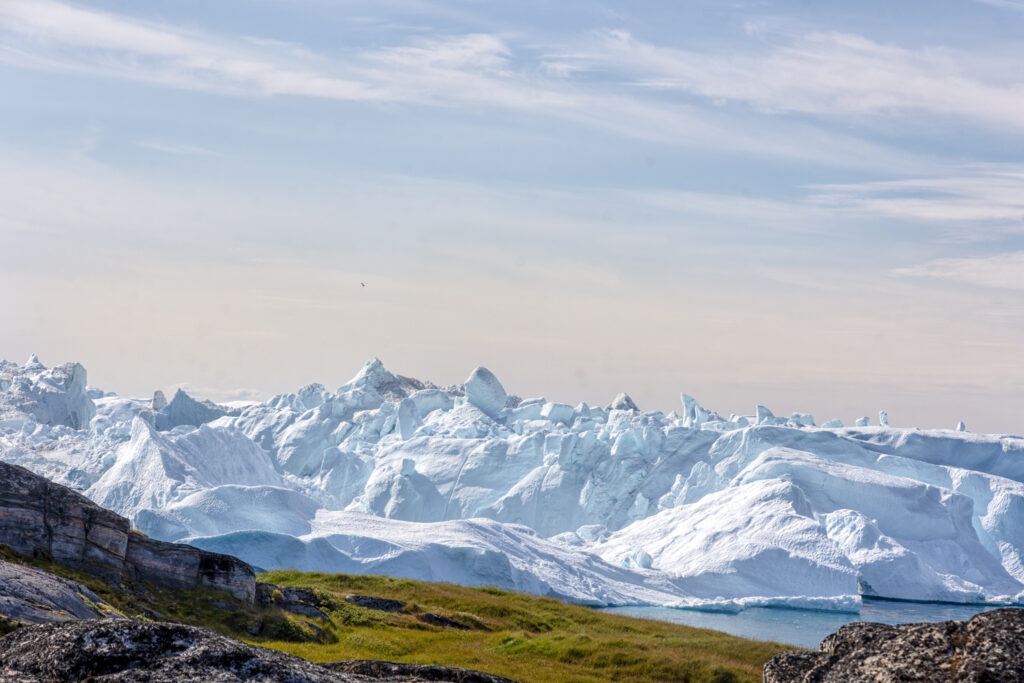 The descent from the highest point wound through ponds and greenery and flowers I have no name for. So big, so lush. The trail emptied out at the edge of the old cemetery which I was too tired to properly explore. Maybe next time.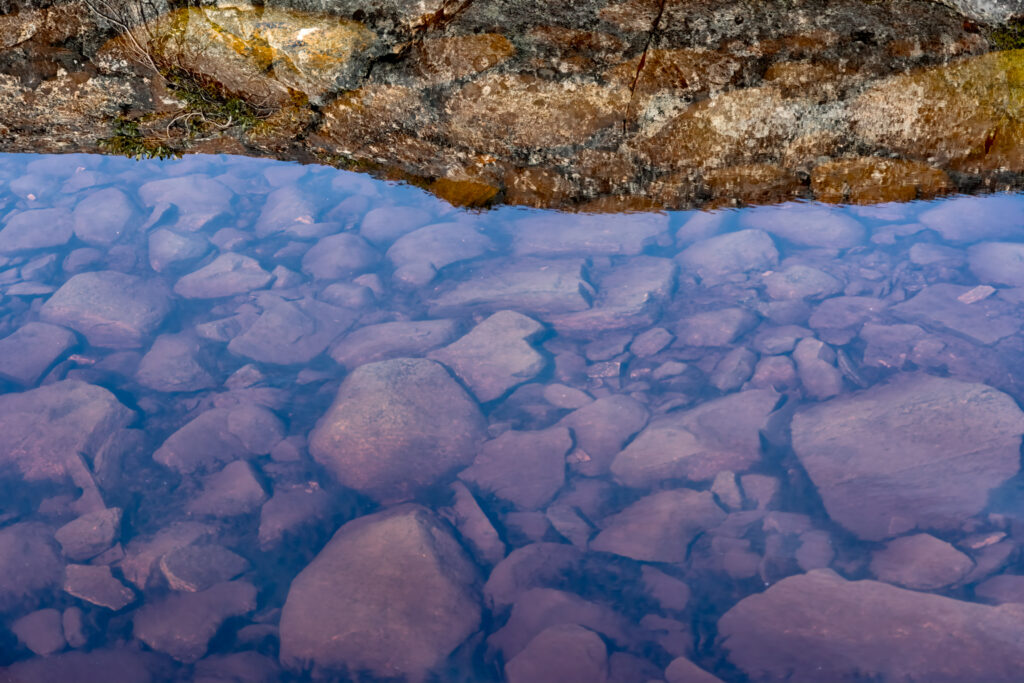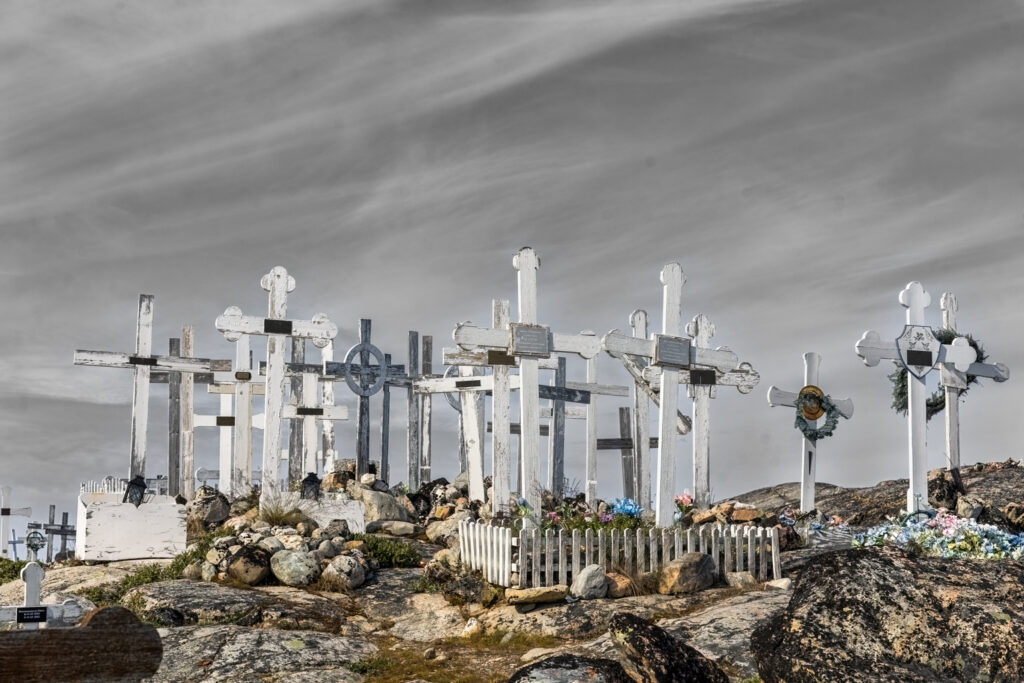 This was a beautiful hike, even if often I only knew where to go by the splash of yellow paint on the occasional rock, so there were times I found myself off the trail and had to scramble back to it when I spotted the tell-tale pinto yellow cairns. But I am very glad I did this. It gave me so much to think about. I leave you with a poem by Welsh poet Gillian Clarke which touches more closely on my emotions at this sacred place than my mere words can do.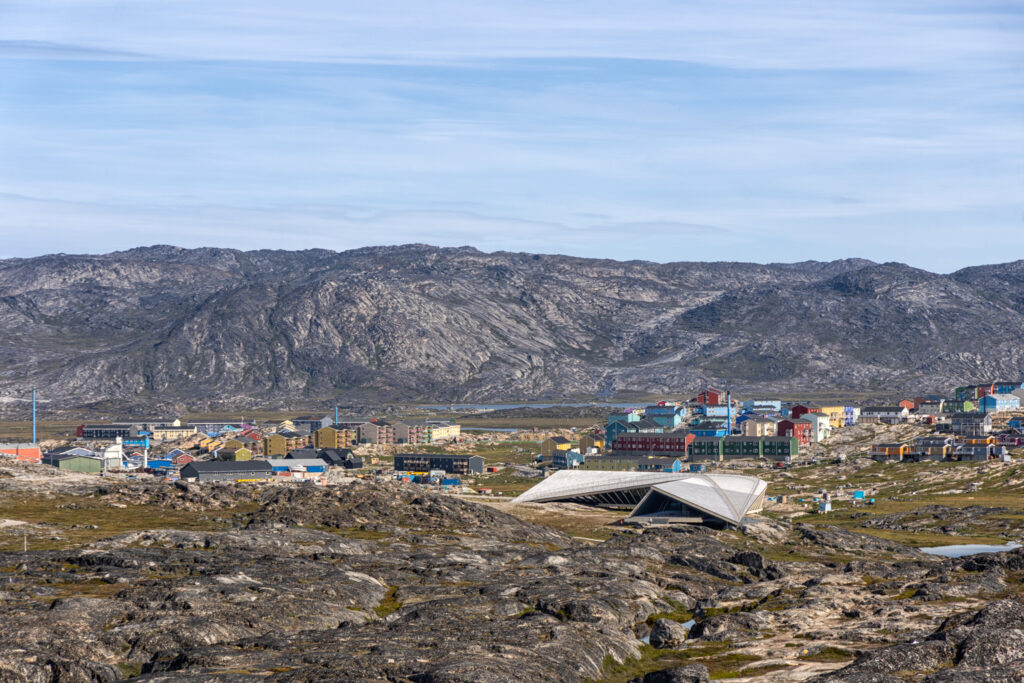 Glacier
The miles-deep Greenland glacier's lost its grip,
sliding nine miles a year towards the sea
on its own melt-water. As, forty years ago,
the slag-heap, loosened by a slip
of rain-swollen mountain stream, suddenly
gave with a roar, taking a primary school,
crushing the children. The century of waste
has burned a hole in the sky over the Pole.
Oh, science, with your tricks and alchemies,
chain the glacier with sun and wind and tide,
rebuild the gates of ice, halt melt and slide,
freeze the seas, stay the flow and the flux
for footfall of polar bear and Arctic fox.
— Gillian Clarke