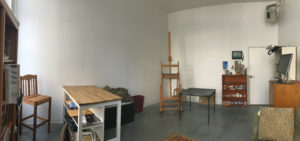 I've now done the last major thing on my slate – being with my friend while she had surgery. I'm a strong believer that no one should be alone in the hospital, and I was glad to stay with her. But now that's over, now it's less than a week to my departure, a flock of butterflies is living in my stomach. Today, I cleaned out my studio for my subletter. I put away paintings and cleared off wall space and shelf space for her. I can't tell you how strange it feels to know the next time I pick up a brush I will be in the arctic. That's… weird, and a little frightening.
I don't know what to expect from Svalbard. I have dinner reservations in Longyearbyen for September 1 with my friends Gary and Robyn. What a strange world I live in, that I can make reservations in a restaurant on the edge of the ice – 3,000+ miles and 9 time zones away from my home in Seattle. But my accommodations are a mystery. My first night will be at Coal Miners Cabins which is close to Galleri Svalbard who is hosting me. I know I will have a room to sleep in, a shared kitchen, and a studio. Other than I am on a reindeer migration path, I don't know how close I am to the center of town where the single grocery store is. Is it safe for me to walk there? Do I bicycle? How do I get around? I guess I'll find out.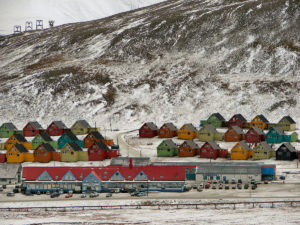 The question a lot of my friends have is will I come back. Well, of course. Eventually. Probably in December. I leave for Antarctica in March. So I must be back in Seattle to leave for that. I must be here for my son's wedding in July. But other than that, who knows what I'll do? I certainly don't.
A friend of mine at the food bank told me I'd meet a Norwegian and get married and stay in the arctic. When I laughed she said, "Why not? You're a beautiful and happy woman. Any man who doesn't want you is a fool." Well, that is without doubt the most flattering thing anyone's said to me in years and years, but my experience proves that's not actually the way it is. So most likely no Norwegian, or Finn or Swede or Dane or Icelandic sheep farmer or Greenlandic hunter is going to keep me north.
But there are things that could persuade me to stay longer. An offer of work. An offer of a place to live for awhile. Someone wanting to travel with me – to Finland, for example. I am passionate about the arctic. I don't have a counter balancing, stabilizing passion. I am truly untethered, unanchored, and the north is so beautiful. I know people don't want me to leave, or at least to assure them I'll come back. What I need is a reason to return. I'm still trying to figure that one out. And all I can say is I don't know what will happen. Probably I'll be back in Seattle in December. Maybe not.
In the meantime, I need to think about all the practicalities, and they are myriad. What camera equipment to take? Where's my passport? Do I have enough paint, and if not, how do I get more? Where's the closest bar? Is there a bookstore? What's the food like? Where did I put my winter gloves? You know, the important stuff.
Image of Longyearbyen by Bjørn Christian Tørrissen for Wikipedia